RESOURCES DURING THE PANDEMIC
HELP IS AVAILABLE!
During these difficult times, you may be wondering if you can still get help for a gambling problem for you or someone you know.
Please be assured that providers all across the U.S. are providing remote help. To get free help in Oregon, reach out to the Oregon 24-hour helpline, 1-877-MY-LIMIT, or visit OPGR.org.
Residential help: Bridgeway's Santiam House re-opened in April 2021. 
If you're outside of Oregon, call the 24-hour gambling helpline, 1-800-522-4700 or visit ncpgambling.org/chat for help.  Gamblers Anonymous is also holding groups via phone across the U.S.; updated call-in information is below.
This is a very stressful and traumatic time for many. Here are some resources from Trauma Informed Oregon that we hope are helpful for community members and providers alike. If you or someone you know is feeling suicidal, talk to someone now: 1-800-273-8255 / chat https://suicidepreventionlifeline.org/chat/.
Feeling anxious? Download the "Coronavirus Anxiety Workbook," developed by The Wellness Society. It's got great tools for understanding what anxiety you're feeling and practical tips for getting through this time.
We will keep this page updated as we get additional information, and wish health and safety to you and yours.
OREOGON PROBLEM GAMBLING HELP:
1-877-MY-LIMIT / 

OPGR.org
Help is free and available!
PROBLEM GAMBLING HELP IN REST OF U.S.:
ONLINE MEETINGS:
Gamblers Anonymous Meetings Via Zoom:
https://gasteps.org/virtual-meeting-director
Online Meetings – Recovery Dharma:
https://recoverydharma.online/
Online Meetings – In the Rooms:
https://www.intherooms.com/home/
Online Meetings – SMART Recovery:
https://www.smartrecovery.org/community/
(Thank you to Oregon providers, Maggie Robles, Joe Lucia and John Ackley, for sharing these resources!)
GAMBLERS ANONYMOUS CONFERENCE CALLS:
During the COVID-19 crisis, Gamblers Anonymous has an accommodation  for all GA members who have been told that their regular meeting facilities have been closed due to the current health emergency.
Below are the details to call in for all the meetings. The telephone conference call platform GA uses has local access telephone numbers for 74 different countries. From outside the United States, please use the appropriate email address to request local call-in numbers.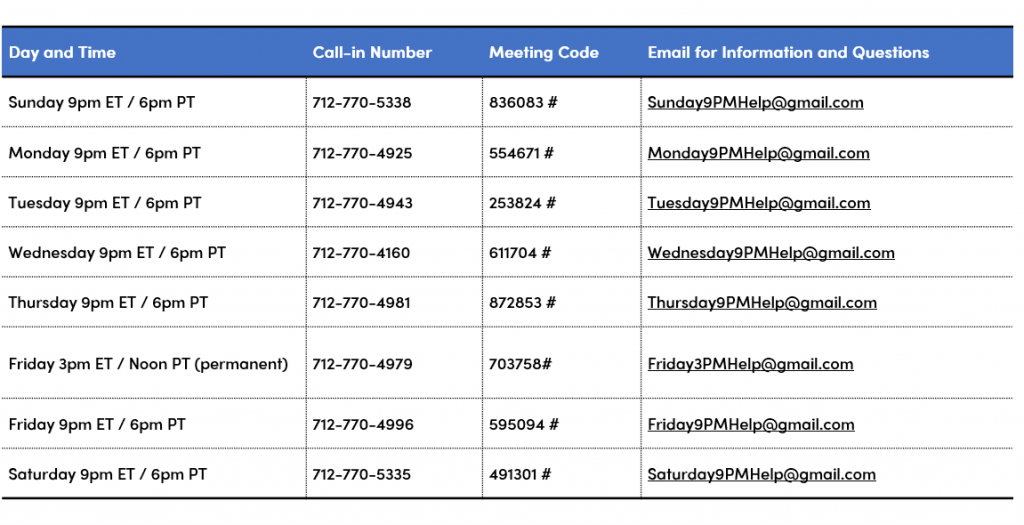 OTHER RESOURCES:
Staying Safe During COVID-19 (National Domestic Violence Hotline)
Friends + Family Guide: How to help someone who is in an abusive relationship (Washington State Coalition Against Domestic Violence)