Trauma & Body in Gambling Disorder Treatment
Wednesday, March 10 from 9-11am PT (12-2pm ET)
On-Demand Recording
Viewing for this recording expired on May 8, 2021.
This session will discuss the role of trauma and the body in the treatment of gambling disorder. It is widely understood that a component of gambling disorder is an addiction to a dissociative state which can disconnect people from their present realities, including their physical bodies. Some people who experience chronic pain experience relief from their pain while gambling in this dissociative state. According to Durand Jacob's General Theory of Addiction, addiction is a way to manage a chronic stress condition that is created by a trauma history and an abnormal resting arousal state. We will discuss the window of tolerance and how gambling behaviors can be used as a form or self-regulating arousal. Information will be presented about the role of the body in storing trauma and how different body resources can be used to process trauma rather than avoid it. A general overview of Sensorimotor Psychotherapy as a treatment modality for working with the body will be presented to introduce a set of interventions with great potential to support those navigating gambling disorder.
Objectives:
Participants will have a better understanding of trauma and its effects on the body.
Participants will learn about the window of tolerance and how gambling is used to regulate arousal.
Participants will better understand how trauma is stored in the body and how to work with the body.
Participants will learn about Sensorimotor Psychotherapy as an approach to treating trauma.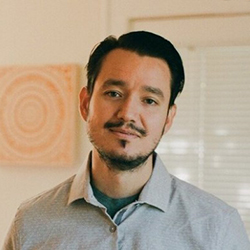 Julio Iñiguez, LMFT, CGAC-II, CADC-I is the Clinical Supervisor for the Gambling Treatment Programs at Bridgeway Recovery Services in Salem, Oregon. Julio brings a systemic, culturally informed, and trauma-informed perspective to improving Gambling Treatment Services as a therapist, clinical supervisor and program administrator. He completed his education in Marriage and Family Therapy at Lewis & Clark College in 2014. He has been working in the Problem Gambling field since 2013 has focused on working with families and Latino communities. He worked at Adelante, a culturally specific services program for Latinos with addictions, including Gambling Disorder, where he learned specific ways of engaging Latino clients. Julio has completed the Sensorimotor Psychotherapy Level 1 training and brings knowledge of treating trauma through working with the body to the Problem Gambling field. He has presented at National and Regional conferences on working with families in gambling treatment. Julio is part of the multicultural Advisory Committee on Problem Gambling Services for Oregon Health Authority and is on the Latino Advisory Board for the Evergreen Council on Problem Gambling.
Because of online learning, we use evaluations to verify attendance and to be in alignment with ethical principles. Complete the evaluation below and, if seeking CEUs for this session, include your email address. The CEU link will be emailed to you. (If you don't see an email from Oregon Council on Problem Gambling, please check your spam/junk folder.)
Your responses are confidential and maintained separately from your name and email address.
Please note that the evaluation is easiest completed on a computer and not a mobile device