VPGR Community Forum: "Your Recovery Voice Matters!"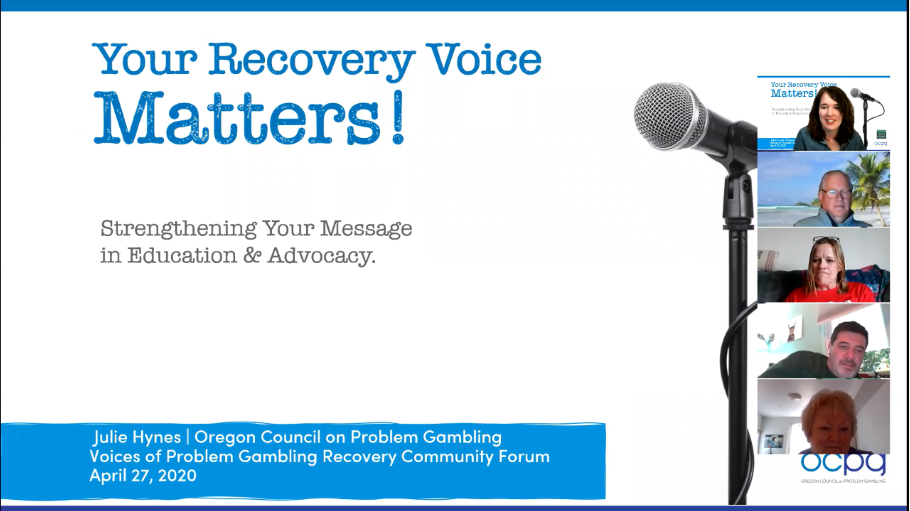 Many thanks to the Voices of Problem Gambling Recovery for hosting our Community Forum together on "Your Recovery Voice Matters! Strengthening Your Message in Education and Advocacy" on April 27, 2020.

This was our first venture at an online forum and, while it was intended to be an in-person and hands-on forum, we hope the resources provided here are helpful to you.

As always, be well and let's stay connected! For feedback or questions, please contact Julie Hynes (julie at oregoncpg dot org). Visit our media page for additional video resources.


"How Not to Give Legislative Testimony"
This was a portion of our discussion in the webinar:
Other Resources
National Council on Problem Gambling:
National Council on Problem Gambling (NCPG) webinars are free for all members! Visit https://www.ncpgambling.org/ for upcoming training opportunities.
If you missed Brianne Doura's Advocacy webinar on April 30, have no fear. NCPG is holding Advocacy Day in Washington, D.C. on October 1! Stay tuned for updates and join their mailing list.
TED Talks on Presenting:
"Death by PowerPoint" – David JP Philips TED Talk
"How to Speak so That People Want to Listen" – Julian Treasure TED Talk Victory pose (body language) – Amy Cuddy TED Talk
Example Testimonies & Testimony Tips:
"Celebrate Recovery"
Oregon Problem Gambling Resource YouTube channel
Community Toolbox tips on advocacy (University of Kansas)
VPGR tips sheet (available through VPGR)