A Brief History
While legalized gambling has expanded over the past 25+ years in Oregon, so too have the efforts to help reduce harm with treatment and prevention efforts, along with responsible gambling messaging, programs, and policies.

Oregon Lottery approved by 66% of voters as an amendment to the Constitution. Scratch-it's are the first game to be introduced.
Indian Gambling Regulatory Act Authorizes Tribal Casino gaming.
Lottery introduces Keno
Video Lottery games introudced
Problem Gambling treatment fund created (ORS 409.430), limited gambling treatment programs established
First of Nine Tribal Casinos to open
Problem Gambling treatment consolidated statewide under counties
Oregon Problem Gambling Helpline Establised
Oregon Council on Problem Gambling Established
Oregon Conducts Adult Gambling & Prevalence Study
Senate Bill 118 Designates 1% of Lottery Profits to Fund Gambling Treatment and Department of Human Services tasked to manage funds
Replication of Adult Gambling Prevalence Study
Administration of Problem Gambling Services Consolidated under State Agency
Epidemiological Survey of Older Adults Gambling in Oregon
Number of Video Lottery Terminals Allowed Per Retailer Increases from Five to Six
All Counties Receive Problem Gambling Prevention Funds

Oregon Lottery introduces line games to the Video Lottery terminals
Oregon Conducts Adult Gambling Prevalence Replication Study
Voices of Problem Gambling Recover Established
Oregon Conducts Adolescent and Parent Gambling Prevalence and Attitude Study
Helpline Incorporates Live Web Chat
House Bill 2355 Creates Funding Floor Ensuring Problem Gambling Treatment Funds Remain at or Above 2011 Levels
Oregon Lottery Commission Adopts Responsible Gambling Code of Practice

Oregon Problem Gambling Resource Website Launched
Responsible Gambling Code of Practice Adopted into Statute

Helpline Incorporates Spanish Language Phone Number

Oregon Health Authority Develops 2016 to 2020 System Improvement Plan for Problem Gambling Services

Oregon Conducts Adult Gambling Behavior Study
Oregon Conducts Adolescent Gambling Behavior Study
Who's Gambling?
Gamblers in Oregon mirror the demographics of the state as a whole, with adults of all ages, races, educational backgrounds, and income levels participating in some form of legal gambling. Specific demographics vary depending on the gambling activity. Gambling operators in Oregon and nationwide are challenged with becoming relevant to Millennials and this is reflected in the demographics.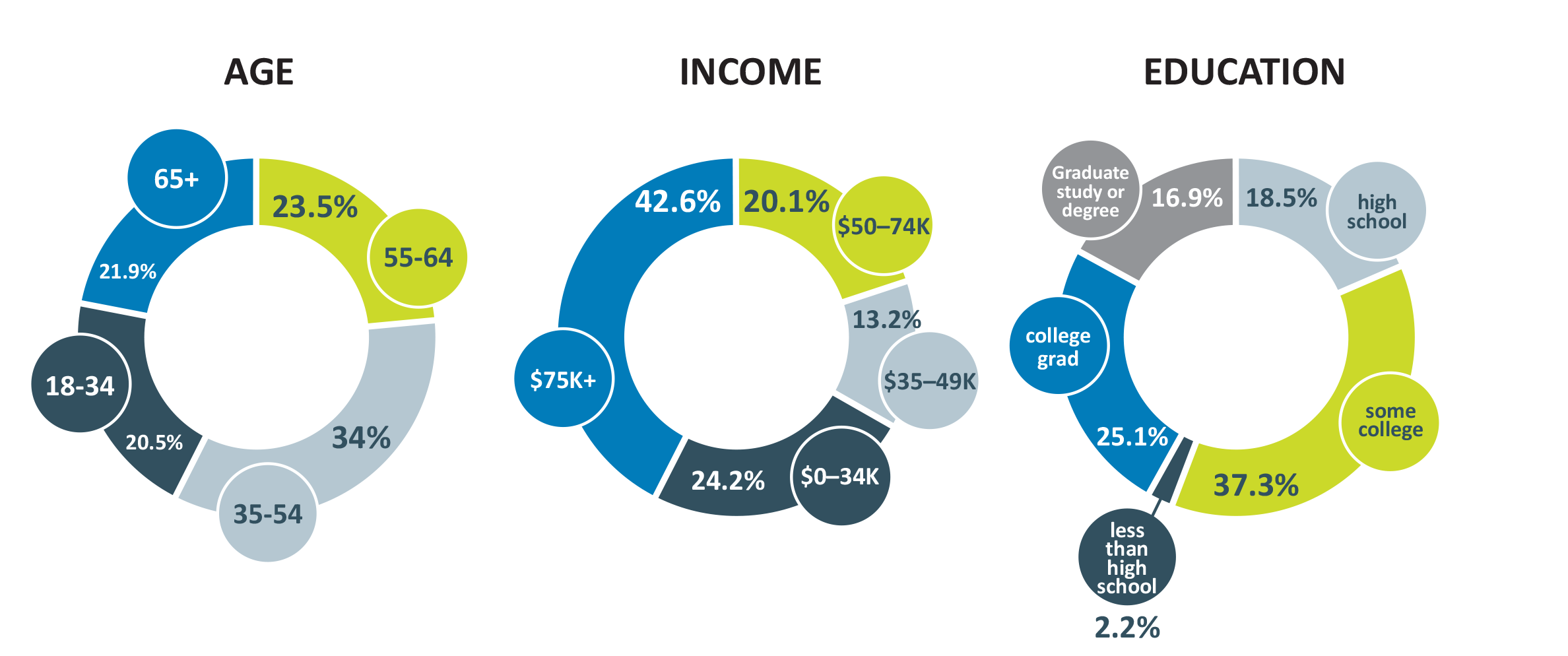 Where Are They Gambling?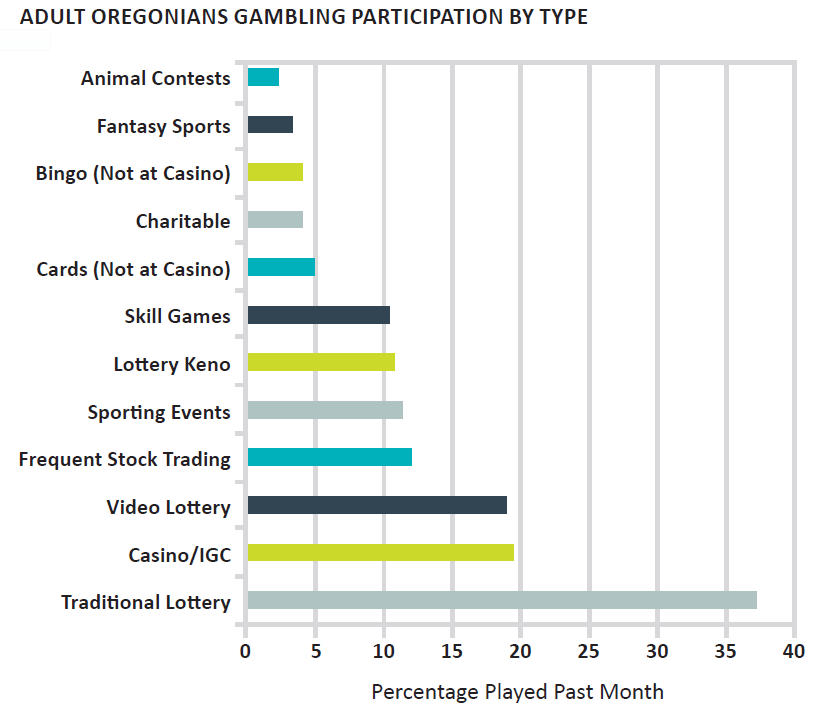 Prevalence
The Oregon Council on Problem Gambling conducted adult prevalence studies in 1997, 2001, 2006 and 2015. Prevalence rates have remained largely consistent over time, despite the significant expansion of gambling opportunities nationally and in Oregon. This suggests that harm minimization and prevention efforts are having an impact.
Based on the 2015 Oregon Adult Gambling Behaviors Survey, 43.4% of adult Oregonians don't gamble, 48.6% gamble but do not experience gambling related problems, and 8% experience problems along the continuum ranging from low to severe. In Oregon, it is estimated that 2.6% of the adult population experiences moderate or serious problems with gambling. Those who do gamble can move in and out of problematic gambling periods throughout their gambling life.

Reducing Gambling Related Harm
Oregon provides free prevention and treatment services across the continuum of problem gambling. Treatment is available for both gamblers and their families. One percent of Oregon Lottery revenues are transferred from lottery proceeds to fund these services. The Oregon Health Authority administers the funds that provides approximately $5 million annually for treatment and prevention programs and services.
Additionally, the Oregon Lottery spends approximately $3 million annually to promote responsible gambling practices and to create awareness of the free confidential treatment resources that are available for all Oregonians.