The System Works
The prevalence rate for at- risk adolescent gambling decreased from 4.6 percent to 1.7 percent over the past ten years.
In 2008 1.3 percent of youth were problem gamblers and in 2016 the rate dropped to 0.1 percent.
The drop in adolescent prevalence of at risk and problem gamblers can be attributed to community prevention and awareness efforts.
With the increase access and availability of gambling, the prevalence of adult problem gambling has remained the same. This can be attributed to statewide responsibility gambling messaging and efforts in the local communities.
The successful completion rate for outpatient treatment clients is 35 percent.
Of those that completed treatment successfully, after 12 months 60 percent remained abstinent and 32 percent were gambling much less
95 percent of past clients, whether successful completers or not, gave a very strong endorsement to recommending the program to others.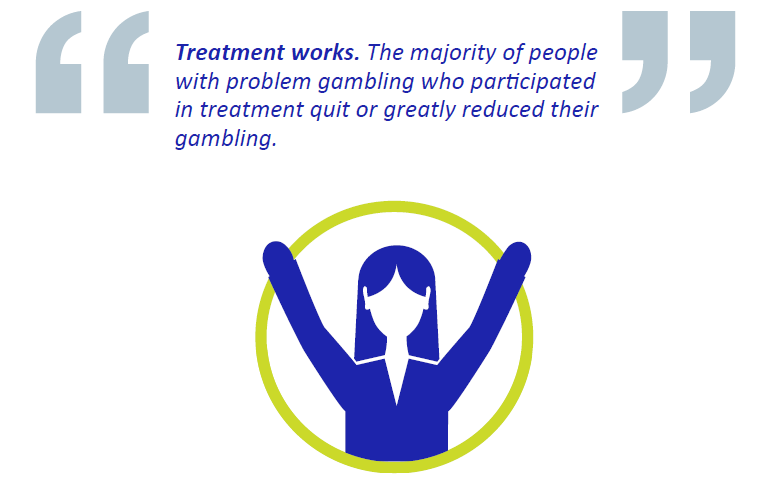 Treatment Goals
The Council, in concert with Dr. Rachel Volberg reviewed available literature and determined that realistically, 3% of those with gambling problems should be expected to enter treatment each year – a range from 1,722 to 2,927 adults. During fiscal year 2005-2007 (FY05-06) the number of adults accessing treatment reached 1700. The number or enrollments crested in FY 07-08 and has since take a precipitous decline dropping nearly 40% in the following four years. In FY 03-04, Oregon was in the throes of a severe economic downturn and, as had happened at least three times since the state began funding problem gambling treatment services in 1995, the funding for problem gambling was in jeopardy. The Oregon Council on Problem Gambling was successful in aiding restoration of the full 1% funding dedicated to treatment and prevention. The Oregon Council is in the process of getting sponsorship support for a 4th Problem Gambling Prevalence Study, the first to be conducted since the Oregon Lottery began selling line games on their VLTs, to provide a current snapshot of the incidence of problem and pathological prevalence in Oregon to reassess goals.
Oregon Problem Gambling Annual Evaluation Report
Problem Gambling Prevalence In The Oregon Criminal Justice System Internal Report
Problem Gambling and Behavioral Health
What We Measure
Many problem gamblers never seek help, some find help through participation in community support groups such as Gamblers Anonymous, some may obtain help through the private sector, and for others there is the lottery funded safety net of free treatment services administered through OHA's Oregon Problem Gambling Services (OPGS). The following data reflects only those programs funded through OPGS and the over 2000 consumers of these state-funded gambling treatment programs that received services in state fiscal year 2015.
Treatment Enrollments
In fiscal year 2014-2015, 1,182 problem gamblers and 150 family members and partners of problem gamblers enrolled into a state funded problem gambling treatment program This number represents a 5.6% year over year increase in the total number of persons enrolled in these programs. However, with an estimated 83,000 problem gamblers in Oregon, treatment services to do not appear to be fully utilized. It's not clear what is becoming of problem gamblers not entering state-funded gambling treatment although studies on natural recovery estimate about a third of problem gamblers recovery from a gambling problem without professional treatment. That said, the data suggests a continued focus on awareness efforts to ensure those with problems are aware that of the variety of free resources and treatment that are available for people who want to make any changes to their gambling.
Treatment System Performance
OHA's Problem Gambling Service sets performance benchmarks for their providers and measures system performance through a number of indicators. For example, we know outpatient gambling treatment in Oregon is accessible by looking at the 2015 system data that shows the average time between initial call to a treatment program and first available appointment was 3.8 calendar days. We also know the treatment system is efficient as demonstrated by the average number of service hours per client for all outpatient gamblers was 23 and for program completers that average was 47 hours equating a $2,581 average case cost for program completers.
Treatment Outcome
Treatment outcome is measured along several factors including whether or not a client meets the criteria for a "successful discharge," meaning they completed at least 75% of their treatment plan; have been problem free for the last 30 days; and had a continuing wellness [aftercare] plan. The successful treatment completions rate was 49.9%; females were significantly more likely to be successful (55.0%) than males (44.8%). In order to determine if treatment gains persisted past the discharge date, program participants are contacted at 6-months and 12-month after they have been discharged. For those that completed treatment, at six-month follow-up, 64% reported no gambling and 61% of the 12-month sample reported abstinence. For those who left treatment early, 43% reported abstinence at six-month follow-up. When past program participants were asked about their satisfaction with the services they received, 97% of the completers at six-month follow-up and 94% of those at 12- month follow-up said that they would strongly recommend the program to others. Even 81.4% of those who dropped out of treatment early said they would recommend the program. Additionally, the public's use of problem gambling resources is monitored through collecting gambling helpline, website and treatment data.
Marketing Efficacy
The Oregon Lottery and community partner invest in raising the public's awareness of free, confidential, and effective treatment. These efforts include advertising on television, radio, billboards, and print ads. The Oregon Lottery implements an innovative web-based trigger marketing campaign designed to reach viewers when they are most likely to be receptive to messages about help for problem gambling.
The effectiveness of these efforts is measured, in part, by the number of OPGR.org clicks to the web site as well as the number of calls the helpline receives. Results from the 2015 Adult Gambling Behavior Study also suggest these efforts are working as evidenced by nearly 85% of the population being aware of gambling treatment availability and 63% recalling an ad regarding problem gambling.